BioThane®
BioThane® is a polyester webbing with a PVC coating. It has a similar look and feel to leather, but it's vegan. And it's kind of amazing.
→ It's water and odor-proof: Drag your leash through mud, sand, water, or snow and after a quick rinse it'll be good as new.
→ It's easy to grip and next to impossible to get tangled: Say goodbye to your old leash that leaves you with nothing but rope burns and one million knots to detangle. (iykyk)
→ It's super strong: The 13 mm has a break strength of 226 kg, and the 19 mm has a break strength of 340 kg.* (Please note that BioThane is not chew-proof, and excessive damage from chewing will affect the strength of the leash).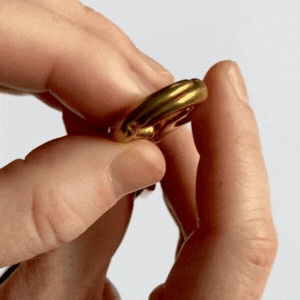 Trigger Snaps
→ Our stainless steel trigger snaps are extremely sturdy and resistant to corrosion. The breaking load is 500kg.*
→ Our solid brass trigger snaps are resistant to corrosion, but some tarnishing over time is natural. The breaking load is 130kg.*
→ Our chrome, rose gold, and black trigger snaps are Zinc die cast and finished with plating. Because of the nature of plating, some surface scratching due to general wear should be expected over time. The breaking load is 130kg.*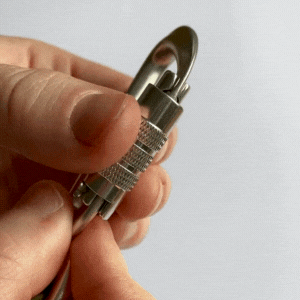 Carabiners
→ Our autolocking carabiners are made from lightweight aluminium and are finished with anodized silver or black coating. They're strong, resistant to corrosion, and lightweight, making them a fantastic choice for dogs of all sizes. The breaking load is 400 kg.*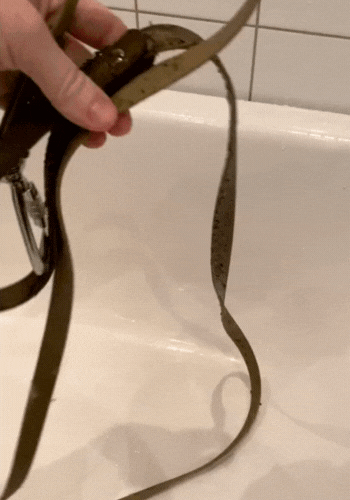 Cleaning
→ One of THE best things about a BioThane leash is how easy it is to clean. Simply rinsing it under running water will remove pretty much all of the muck, but if you're feeling extra ambitious you can use a little bit of soap and a sponge.
→ Wipe down with a towel or hang it to air dry — no matter what, your newly cleaned leash will stay odor-free!
*Based on the supply manufacturer's Breaking Load guidelines. Note that Breaking Load is not equivalent to a dog's weight. Each consumer is responsible for determining the suitability of all Everydog Co. products for their individual situation and needs.